ALUMINUM HONEYCOMB CORE GLUING MACHINE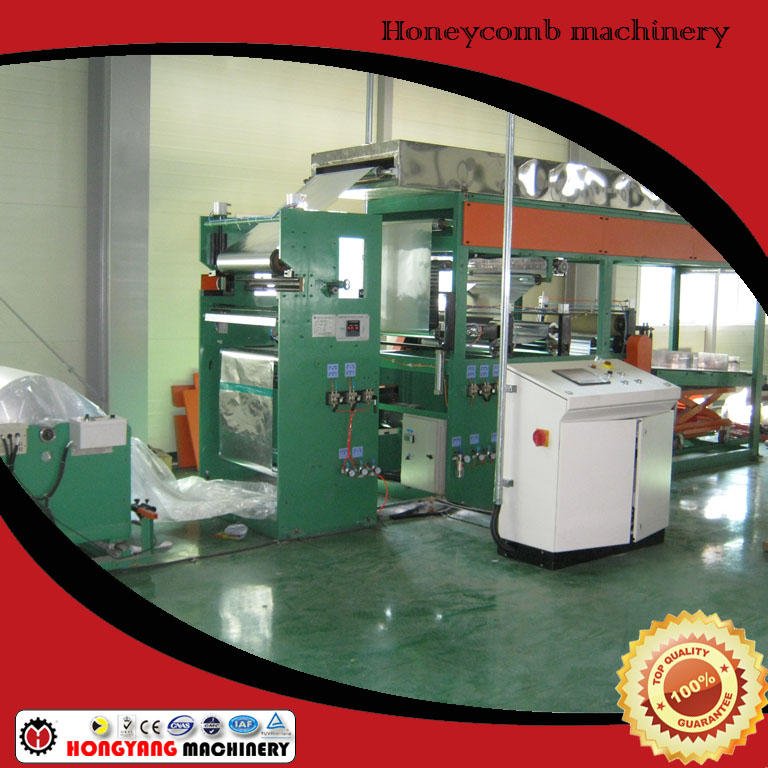 Aluminum honeycomb glue pasting machine
LFW-600 Technical parameters and characteristics
Honeycomb aluminum plate production line is a new high for the external walls of building decoration materials for production lines. Over the past only for highly demanding aerospace industry. Today the production of aluminum honeycomb core board surface of aluminum alloy sheet, while the center layer is made of honeycomb aluminum structure, with excellent rigidity, is the best metal curtain wall material products. The product is widely used in modern construction and fitting and trains, automobiles, ships and other manufacturing industries.
First, the main features:
1. With aluminum foil manual unwinding tension control;
2. With aluminum foil before coating the automatic correction control;
3. Can pre-set operating parameters;
4. Working parameters of real-time display;
5. After the glue aluminum foil on the precise definition of long-cut, so that after the foil layer of glue can be stacked side head positioning;
Second, the device functions
1. In the aluminum honeycomb substrate coated with the node type of cellular adhesive;
2. the specifications of the gravure roll designed by customer's request,;
3. After the glue set cellular substrate temperature zone through two dry;
4. Of honeycomb substrate according to set requirements to complete the length of the automatic cut off;
5. Can be transferred off the aluminum foil with a belt;
6. Can be set to work to the floors tips;
Main technical parameters
1. Aluminum foil coated printing speed: 0 ~ 15 m / min
2. Heating system: room temperature ~ 150 ° §³ ± 5 ° §³ adjustable
3. Foil substrate width: 600 mm
4. Tu printed strip width: ≥ 595 mm
5. India rubber roller circumference: 480 mm
6. Cutting length accuracy: the relative length of the foil layer error ¡Û ± 0.3 mm
7. Total input power: 18KW
8. Equipment outline dimensions; machinery L2800 × W900 × H1500 mm
Control cabinet L600 × W350 × H1500 mm